Obra de Chaiene Santos tem mais de 750 mil acessos em plataforma digital.
Os Filhos do Tempo conta história de um estudante de física observador.
Confira a notícia sobre Chaiene Santos no portal de notícias G1.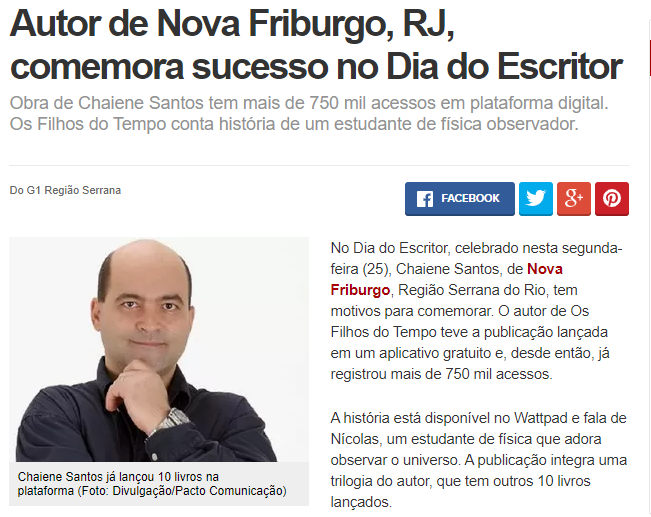 http://g1.globo.com/rj/regiao-serrana/noticia/2016/07/autor-de-nova-friburgo-rj-comemora-sucesso-no-dia-do-escritor.html
Completed on:
03/13/2015
Review Rating:
4 stars.
Reviewed By Faridah Nassozi for Readers' Favorite
On a planet hundreds of centuries away, the king's only daughter was dying and her one chance of survival was in obtaining the bone marrow of Nicolas, an earthling. Nicolas, a college geek with immense interest in the science of the universe, did not know that there was anything special about him until a new student of exotic beauty showed up in his class. From that moment on, his life changed. He could not believe that a young woman of such beauty could be interested in him. However, when Zara finally revealed where she came from and her purpose on earth, Nicolas was not so sure if being with her was the right thing to do. How was he supposed to agree to travel across time and leave his family behind? But, then again, he was goodhearted and the purpose of Zara's mission touched his heart. However, his journey to planet Vida was not going to be so smooth as there were those within the Vida authorities with self-serving intentions that put his life in danger.
The Children Of Time by Chaiene Santos is a remarkable science fiction novel with a unique plot and memorable characters. Each character, both human and alien, was developed to bring something to an already exciting plot. Imagine a place far into the future; Chaiene Santos' skill comes out in the ability to develop a plot that fits within both the future and the past. The plot builds on a science fiction theme filled with devious power plays, amazing technology and drama that keeps you hooked to see how it all plays out in the end. I especially loved the fact that as much as the story was based on a sci-fi theme, it was also equally balanced with drama and romance. If you are a fan of sci-fi, you will love this book; especially if you love stories involving aliens and time travel.